24 November 2023
We are saddened and disappointed to see the outcome of the policy changes in the coalition agreements today. These changes are walking backwards from the action we fought so hard for, and the worst possible outcome for our youth.
We need your support to make it known we are not ok with our children being passed over in their negotiations. Reach out to your local MPs and tell them we need vaping regulations that protect our children and we are not ok with having the second-worst youth vaping rates in the OECD!
We are committed to doing whatever we can to make them hear our voices. One way we can do this is by sharing the stories of the heartache and pain caused by vaping in your families. Join our fight here:
Grassroots group tackling the youth vaping crisis
Vape-Free Kids New Zealand (VFK NZ) is entirely run by volunteers. Join our cause and keep up with all the latest developments in our Facebook group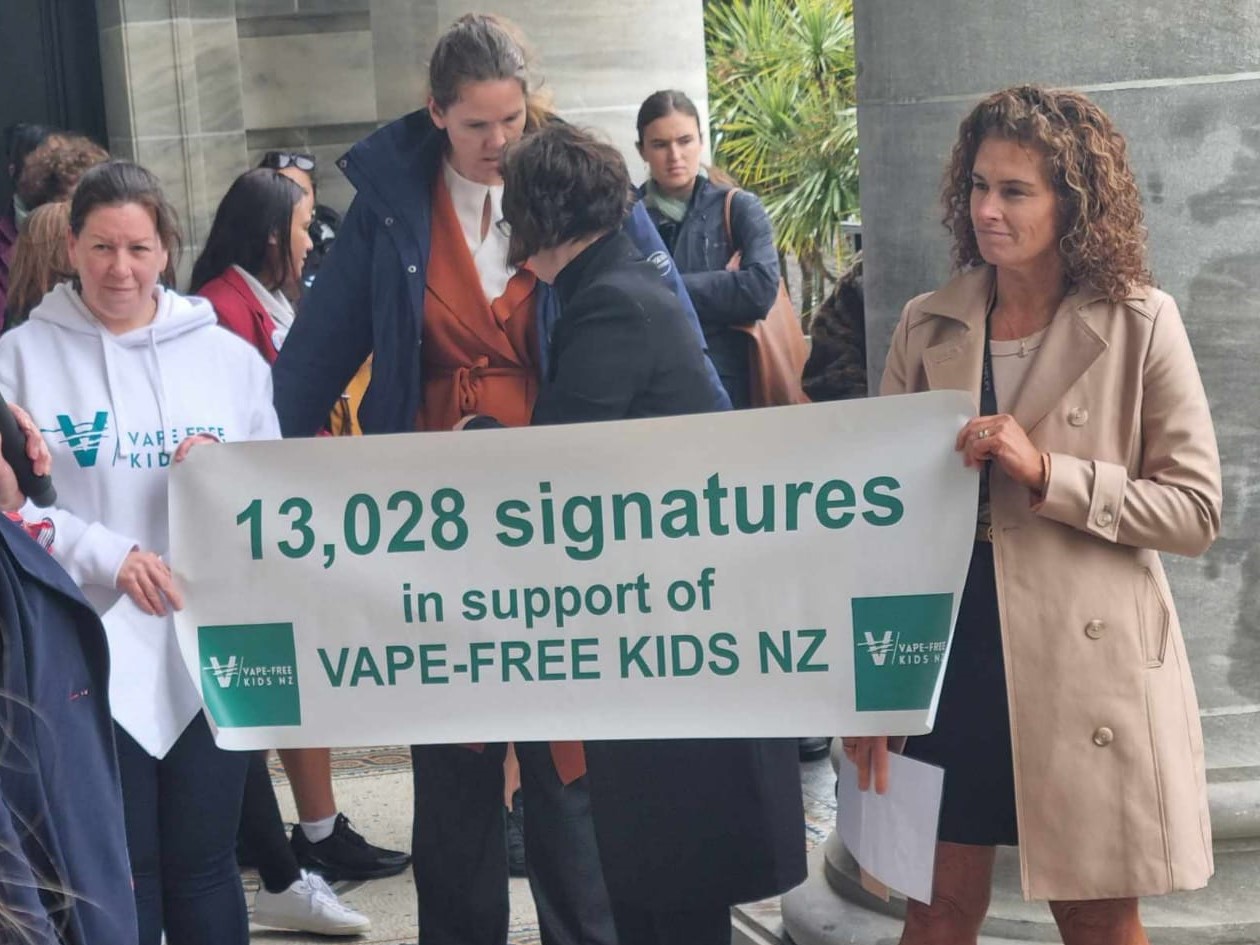 Petition presentation
We presented over 13,000 signatures in support of our cause to Parliament.
Parakai protest
We organised a protest against a new vape store opening next to a school gate in West Auckland.
Affected family speaks out
A family affected by youth vape addiction speaks to The Project about their experience.
NZ Youth Vaping Facts
Here are some facts and figures from a survey of over 19,000 Year 9 to 13 students in NZ conducted by the Asthma and Respiratory Foundation
27% of those surveyed reported vaping in the past week.
75% of those vaping, or 20% of total respondents, are vaping daily or several times a day, and the majority are vaping with high nicotine doses.
Over half of those vaping reported that they were vaping more frequently and at higher nicotine doses compared to the previous year.
86% of students who were vaping more than once a day reported that they were addicted to vaping and 57% felt that it was having an adverse effect on their health.
What we want
More meaningful action to curb the growing issue of youth vaping in New Zealand, including but not limited to:
Implementing plain packaging (black and white) with warnings on all vape products.
Restricting flavour varieties as well as flavour names.
A complete ban on cheap non-refillable/disposable vapes, including those with removable batteries.
Lowering nicotine levels in vapes from 50mg to 20mg, in line with overseas (e.g. California and the EU)
Make vapes pharmacy only.
Stronger penalties that include losing a licence on breach of compliance, such as selling to minors, and more resources invested into enforcement officers.
More investment into supporting schools, communities, parents, and rangatahi for education and vaping cessation.
Recent News about Vaping
All the latest coverage about vaping and Vape-Free Kids in NZ news outlets